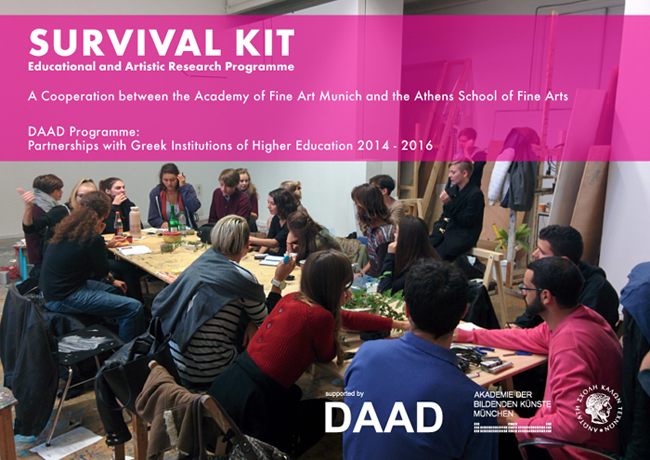 SURVIVAL KIT
Educational and Artistic Research Programme
A Cooperation between the Academy of Fine Art Munich and the Athens School of Fine Arts
DAAD Programme: Partnerships with Greek Institutions of Higher Education 2014 - 2016
---
... / about
The aim of the exchange between art students, teachers and art professionals has been to develop the concept of a 'survival kit'.
This kit contains tools for constructing a joint theoretical perspective and concrete structures and strategies for artistic production through collaboration, with a view towards developing new models of education, solidarity and long term sustainability.
Artists do not function outside of the existing circumstances and therefore have to focus on adressing concrete and acute problems of contemporary society whether material, theoretical or psychological, in order to secure new means and relevant forms of artistic expression.
To this end we have taken the following steps:
• Learning by doing in an educational context that is self-organised and directed
• Realising long-term collaborative projects as well as short-term workshops and exchanges
• Establishing the student-run project space Circuits and Currents
• Creating artistic networks with practitioners, institutions and art schools
• Building local and international audiences
• Researching models for long-term sustainability
---
... / in numbers
5 CORE TEAM MEMBERS
Prof. Stephan Dillemuth (department of art education, ADBK), Prof. Dr. Zafos Xagoraris (Dean of the department of visual arts, ASFA), Ass. Prof. Ioannis Skaltsas (department of visual arts, ASFA), Nikos Arvanitis (artist, project coordinator and artistic associate), Anja Kirschner (artist, project supervisor and artistic associate)
60 STUDENT PARTICIPANTS (CORE PROGRAMME)
Niki Analyti, Eleni Athanasiadou, Jane Auer, Jonas Beutlhauser, Martin Bogisch, Eva Büchi, Eva Burkhard, Elena Carr, Kalliopi Chalouva, Kyrill Constantinides Tank, Vasileia Dereli, Rachel Fäth, Johannes Fedisch, Marlene Franz, Xenia Fumbarev, Faidonas Gialis, Dimitris Gketsis, Johanna Gonschorek, Kassiani Goulakou, Veronika Götz, Panagiotis Gritzos, Kyriaki Goni, Philipp Gufler, Tanja Hamester, Stefanie Hammann, Leo Heinik, Alina Hofmeier, Antonis Kalamaras Prapas, Evi Kalogiropoulou, Byron Kalomamas, Ioli Kavakou, Michael Karmann, Liane Klingler, Angelos Krallis, Lefteris Krysalis, Mirena Liakoussi, Aimilia Liontou, Maria-Veronica Marioglou, Lorenz Mayr, Julian Memboisse, Marius Meusch, Maria von Mier, Lisa Nase, Giorgos Nikas, Giorgos Palamaris, Elena Papastergiou, Nektarios Pappas, Chloé Paré-Anastasiadou, Marios Pavlou, Mako Sangmongkhon, Angela Stiegler, Anna Stroulia, Vasileia Sofroniou, Melina Toelle, Athina Veloudou, Nefeli Voutyra, Myrto Vratsanou, Julia Walk, Sarah Weber, Frauke Zabel
53 LECTURERS AND VISITING ARTISTS (CORE PRORGAMME)
Hans Abbing (artist and economist), Nadja Argyropoulou (curator), Madeleine Bernstorff (film curator and critic), Hannah Black (artist and writer), Pierre Bal-Blanc (curator, documenta 14), Thomas Boutoux (curator, writer and publisher), Dr. Nikos Bubaris (sociologist and sound theorist), Prof. Georgios Charvalias (Head of ASFA), Georgios Cherouvim (animator), Kostas Christopoulos (artist and researcher), Hans-Christian Dany (artist and writer), Angela Dimitrakaki (writer and art theorist), Benoit Durandin (designer), Dora Economou (artist), Marina Fokidis (curator and writer), Stephan Geene (filmmaker), Maria Georgoula (artist), Melanie Gilligan (artist), Constantinos Hadzinikolaou (artist), Margaret Haines (artist), Prof. Anke Henning (scholar of literature), Will Holder (designer, artist and writer), Thalia Ioannidou (musician), Ass. Prof. Dr. Kostas Ioannidis (department of art history and theory of art, ASFA), Dr. Andreas Kapetanios (archaeologist, Greek Ministry of Culture), Dr. Elpida Karampa (curator and art theorist), Giorgos Kostantinidis (artist and musician), Evangelia Ledaki (antropologist and curator), Christoforos Marinos (curator), Jenny Marketou (artist), Karolin Meunier (artist, department of art education ADBK), Androula Michael-Sueur (art historian), Eleni Mouzakiti (photographer), Kostas Mpaltas (historian), Prof. Dr. Maria Muhle (department of philosophy and aesthetic theory, ADBK), Vassilis Noulas (theater director), Ahmet Ogut (artist), Dr. Panayotis Panopoulos (antropologist, ethnographer and sound researcher), Dimitra Papachristou (musician and musicologist), Yiannis Papadopoulos (artist, ASFA), Theo Prodromidis (artist), Johannes Paul Raether (artist), Panagiotis Rappas (animator), Angelos Rouvas (animator), Giorgos Samantas (anthropologist), Ashkan Sepahvand (writer and researcher), Dr. Kostis Stafylakis (artist and art theorist), Prof. Kerstin Stakemeier (art historian, cx centre for interdisciplinary studies, ADBK), Monica Szewczyk (curator, documenta 14), Dr. Titiana Teranova (media theorist), Kostas Tsioukas (choreographer), Ass. Prof. Vasilis Vlastaras (department of visual arts, ASFA), Eva Weinmayr (artist and publisher), Joan Zhonga (animator).
7 INSTITUTIONS AND ART SPACES THAT HAVE HOSTED SURVIVAL KIT (CORE PROGRAMME)
Chisenhale Gallery (London, GB), Empros Theatre (Athens, GR), Green Park (Athens, GR), Salong (Munich, DE), Galerie Kullukcu & Gregorian (Munich, DE), Lothringer13/Florida (Munich, DE), Transmission Gallery (Glasgow, GB)
91 EVENTS lectures, workshops, screenings, exhibitions, performances (EXTENDED PROGRAMME / CIRCUITS AND CURRENTS PROJECT SPACE)
4000 VISITORS students and the general public (EXTENDED PROGRAMME / CIRCUITS AND CURRENTS PROJECT SPACE)
9 EDUCATIONAL VISITS FROM INTERNATIONAL INSTITUTIONS OF HIGHER EDUCATION (EXTENDED PROGRAMME / CIRCUITS AND CURRENTS PROJECT SPACE)
Hochschule für Bildende Künste Braunschweig (DE), Staatliche Hochschule für Gestaltung Karlsruhe (DE), HEAD Geneva University of Art and Design (CH), Zurich University of the Arts (CH), UMPRUM Academy of Arts, Architecture & Design, Prague (CZ), Brno University of Technology (CZ), California Institute of the Arts (USA), University of Applied Arts Vienna (AT)